By Neil Ryan, http://tipperary.gaa.ie/thiobraid-arann-coiste-na-nog-scene-august-29th-2016/
On Saturday 27th we hosted the All Ireland U16 Inter County Hurling tournaments which this year were hosted within the north division.
In the A competition Tipperary were in group 2 accompanied by Cork, Dublin and Meath with the games taking place in Puckane. In their opening game against Cork, Tipperary held the edge throughout the second period and came through on a four point margin 0-14 to 1-7. In their second contest they totally outclassed Meath on a score line of 5-11 to 1-8. The last encounter against Dublin also produced five goals for the blue & gold as they overcame the Dubs on a 5-6 to 1-12 scoreline.
As group winners they qualified for a semi final spot against the victors of group 3 which were the tribesmen of Galway who had amassed a total of fourteen goals with victories over Antrim, Offaly and Clare.
Puckane hosted the semi final and Galway continued on their goal scoring spree as they had the Tipp defense rattled with three goals in the first period to hold a commanding grip on the contest 3-5 to 1-1. In the second period the huge deficit proved to be surmountable for Tipperary as they bowed out on a concluding score of Galway 4-9 Tipperary 1-9.
Ironically defending champions Cork qualified for the semi finals as the top runner from within all three groups. They held out against Kilkenny in their semi final contest which took place in Dolla on a score of 0-11 to 1-6 to contest the final against Galway.
The final took place in Nenagh with Galway setting the scene with the opening point inside one minute. Cork replied immediately to level proceedings. Galway took the lead with another point and again Daire Connery pointed a free for the rebels. On the sixth minute Jack Hallihan had the red flags flying as the Galway net was rattled. It took another fifteen minutes for another score addition with a third Galway point to put the board reading Cork 1-2 Galway 0-3. The defending champions struck again as goal number two came. Galway replied with another point. Cork had a point from Blake Murphy followed by a pointed free to put the interval score Cork 2-4 Galway 0-4.
Upon the resumption Cork had two more points from frees and were looking very comfortable. On the fourth minute Galway cracked in a goal and Cork pointed another free courtesy of Daire Connery
Galway appeared to be getting into the proceedings making numerous raids towards the Cork goal but the rebel defense ensured that no close in opportunity was being allowed. Galway scored four unanswered points two from play and two frees to put the score reading Cork 2-7 Galway 1-8 to set up a very intense closing ten minutes. Their full forward had a goal disallowed as he was deemed to cross the line while in possession of the sliothar. Great credit has to be accorded to the Cork midfield and half back line in particular as they maintained a very strong work rate mopping up every perceived threat. Despite Cork missing out on three scoring chances in succession they always looked safe and in the final minute of normal time Denis McBarron pointed what was to be the last addition to the score record as Cork defended their title on a concluding score Cork 2-8 Galway 1-8.
Chairman Tom Dawson acknowledged the efforts of two good teams and thanked Nenagh Eire Og for the pitch. He also thanked all the host clubs in the north division for a tremendous job re the hosting of the games. He welcomed Cormac Synott of sponsors Arrabawn who sponsored this year's tournament and invited him to present the Arrabawn U16 A Cup to Cork victorious captain Aaron Walsh Barry.
In the B competition, Tipperary contested group 3 along with Kildare and Kilkenny in Portroe. In their opening contest they had Kilkenny as opponents and came through on a score of 1-15 to 0-10. Their next outing was a non event as they power housed Kildare on a score of 6-17 to 1-5.
As the group winner they qualified for the semi final against the winner of group 2 which comprised of Clare, Kerry and Laois. The Lenister men had an impressive victory over Clare to command top spot for their right to play Tipp.
The semi final took place in Portroe with Tipperary enjoying the supremacy holding an interval lead of 2-7 to 1-5. On the resumption it was all Tipp as they powered their way to the final on a concluding score of 3-12 to 1-6. Defending champions Cork secured a four point margin against Dublin for their spot in the final on a score of 0-14 to 1-7.
The final took place in Nenagh with Tipp first to opening the scoring, a point from Jack Ryan. Cork had a pointed free by Eoin Carey to level matters all within the opening minute. Two minutes later Stephen Kirwan pointed a Tipp addition which was followed by another point from Sean McAdams. On the eighth minute the Tipp fans were rejoicing as the Cork net shook as Mark Downey goaled for a score reading Tipp 1-3 Cork 0-1. Cian Crowley pointed a free for Cork which were responded to by Tipp with points from Mark Downey and Darragh Tynan. Eoin Carey pointed a '65 on the fifteenth minute for Cork. Zach Jackson for Tipp was forced to leave the action with an injury on eighteenth minute and with the game going into the closing moments Stephen Kirwan pointed a Tipp free and Ben O'Brien pointed for Cork for an interval score reading Tipperary 1-6 Cork 0-4.
From the restart Tipp got thick into the action with a point from Stephen Kirwan. Moments later he almost had a goal. Then disaster for the Tipp defense as Thomas Foley goaled for Cork. However the Premier response came with a pointed free from Stephen Kirwan quickly added by another Kirwan point from play for a score reading Tipp 1-9 Cork 1-5. Eoin Carey pointed two more Cork frees to put the Cork score @ 1-7 which was to be their last addition with still ten minutes play as Tipperary powered on. Points from Jack Ryan and Stephen Kirwan and a goal from Kirwan on the twelfth minute. Over the remaining eight minutes Tipp added another 1-2 courtesy of Conor Duggan, Stephen Kirwan and Thomas Clark to clinch the John Doyle Cup on a concluding score line Tipperary 3-14 Cork 1-7.
Chairman Tom Dawson congratulated both teams on a great game of hurling. He thanked all involved re the hosting of all the games and the referees. He acknowledged the sponsorship of Arrabawn Coop and invited Cormac Synott from Arrabawn to present the John Doyle Cup to Tipperary victorious captain Michael Nally.
Tipperary victorious panel:
Conor Grace Toomevara, John McGrath Kiladangan, Michael Egan JK Brackens, Rory Darmody Moycarkey-Borris, Barry McGrath Durlas Óg, Paul Devlin Éire Óg Annacarty, Ger O'Dwyer Knockavilla Kickhams, Michael Nally (Captain) Holycross Ballycahill, John Kirwan Moycarkey-Borris, Sean McAdams Kilruane MacDonaghs, Jack Ryan Toomevara, Darragh Tynan Roscrea, Mark Downey Rosegreen, Stephen Kirwan Burgess, Thomas Clarke Cashel King Cormacs, Rhys Shelly Moycarkey-Borris, Eoin Morris Holycross Ballycahill, Zach Jackson Moycarkey-Borris, Timmy Corcoran Lattin Cullen, Darragh Nolan Silvermines, Darragh McKelvey Silvermines, Thomas Vaughan Skeheenarinky, Sean Shanahan Nenagh Éire Óg, Conor Duggan St. Patricks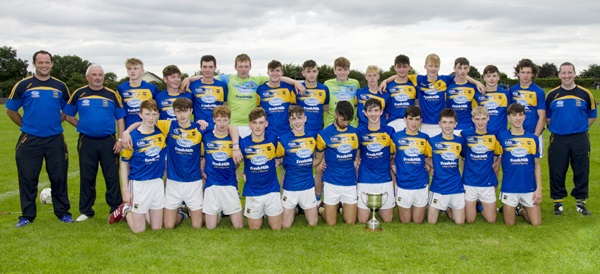 Coiste na Officer board wish to thank the officers of the north division and all involved with the following clubs Ballina, Burgess, Kiladangan, Nenagh, Newport, Portroe, Silvermines and Toomevara for the huge effort put to ensuring that over thirty games went off so well. A special Thank You to all the people that were involved in the catering, feeding hundreds of supporters that attended. Thanks to the numerous referees and officials for a hard job well done.